To conceive, analyze and design complex systems, we investigate new approaches that are founded on a fundamental notion of "adaptation". Adaptation is realized by bringing together nature inspired principles of computation, rigorous engineering design methods, and machine learning.
Fundamental areas of research in the ADAMS lab include:
Swarm Systems: swarm intelligence for distributed search, task allocation, optimization, and decentralized cyber-physical systems.
Evolutionary–Neural Algorithms: concurrent design of the morphological and intelligence architecture of autonomous systems; evolution of neural network topologies.

Physics-cognizant machine learning: physics-aware hybrid machine learning architectures for dynamic systems
Metamodeling and Multi-fidelity Optimization: automated selection and adaptive refinement of metamodels; multi-objective and mixed-integer optimization.
Major areas of application include:
Unmanned Aerial Vehicles (UAVs)
Swarm Robotics
Bio-inspired Flow Modulation 
Cyber Physical Systems 
LATEST NEWS & EVENTS
Sep 2020: Payam Ghassemi, a PhD student at ADAMS Lab, successfully defended his PhD thesis.
Aug 2020: Payam Ghassemi received SEAS Dean's Graduate Achievement Award from the University at Buffalo More
Jan 2020: Prof. Souma Chowdhury has been selected as Early Career Researcher of the Year Award 2019 at the University at Buffalo for his publications and significant research funding in swarm robotics, AI, and design optimization.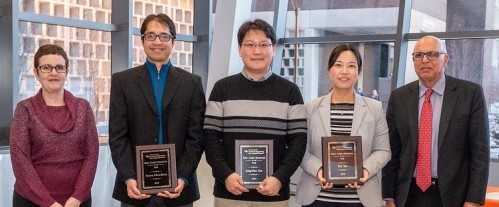 Jan 2020: Our project of Human-augmented AI for Swarm robotics featured in Digital Trends
Aug 2019: NSF AI and Society funded our new research: "Cognitive-Behavior Model to Predict Human Reaction to Swarm AI Non-Compliance". This research enables us to understand how human supervisors react to circumstantial or deliberate non-compliance by the swarms of robots, and how humans identify and attribute errors.
Aug 2019: Payam Ghassemi and Souma Chowdhury presented two research papers on swarm robotics in the 2nd IEEE MRS 2019.
Aug 2019: Payam Ghassemi received NSF travel awards to attend IEEE MRS 2019.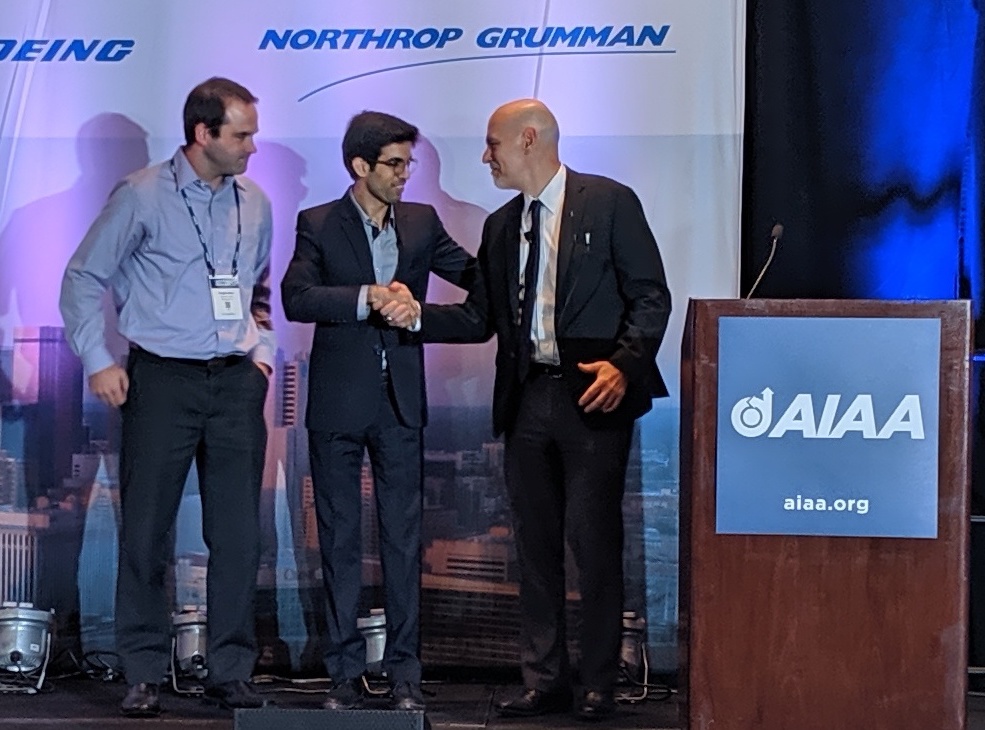 June 2019: Payam Ghassemi won the best student paper award (3rd prize) in AIAA Aviation: Multidisciplinary Design Optimization 2019.
Mar 2019 Invited Talk by Souma Chowdhury, Spill Mapping with Drone Swarm, Remote Sensing and Field Data Collection session, Eighth Technology Workshop for Oil Spill Response in California, Feb 26 – March 1, 2019.
Most Recent Publications
Ghassemi, P., Mehmani, A., and Chowdhury, S., Adaptive In-Situ Model Refinement for Surrogate-augmented Population-based Optimization, Structural and Multidisciplinary Optimization. May 2020. PDF  BIB
Zeng, C., Abnous, R., Chowdhury, S. and Maldonado, V., A New Tilt-Arm Transitioning Unmanned Aerial Vehicle: Introduction and Conceptual Design, Aerospace Science and Technology. Vol. 99, pp.105755. April 2020. https://doi.org/10.1016/j.ast.2020.105755
Ghassemi, P., and Chowdhury, S., An Extended Bayesian Optimization Approach to Decentralized Swarm Robotic Search, Journal of Computing and Information Science in Engineering. Vol. 20, Issue 5, pp. 1-14, April 2020. https://doi.org/10.1115/1.4046587 PDF BIB
Behjat, A., Zeng, C., Rai, R., Matei, I., Doermann, D., and Chowdhury, S., A Physics-Aware Learning Architecture with Input Transfer Networks for Predictive Modeling, Applied Soft Computing, 2020. (in press)
Callanan, J., Ghassemi, P., DiMartino, J., Dhameliya, M., Stocking, C., Nouh, M., Chowdhury, S., Ergonomic Impact of Multi-rotor Unmanned Aerial Vehicle Noise in Warehouse Environments, Journal of Intelligent Robotic Systems, 2020. https://doi.org/10.1007/s10846-020-01238-5.
Ghassemi, P., Behjat, A., Zeng, C., Lulekar, S., and Chowdhury, S., Physics-Aware Surrogate based Optimization with Transfer Mapping Gaussian Processes: for Bio-inspired Flow Tailoring. AIAA Aviation and Aeronautics Forum and Exposition, June 15-19, 2020. PDF BIB
Behjat, A., Zeng, C., Gabani, K., and Chowdhury, S., Concurrent Morphology-Optimization and Behavior-Learning: Co-Designing Intelligent Quadcopters. AIAA Aviation and Aeronautics Forum and Exposition, June 15-19, 2020.
Somarakis, C., Matei, I., Zhenirovskyy, M., De Kleer, J., Chowdhury, S., and Rai, R., Joint Identification and Control in Hybrid Linear Systems, 21st IFAC World Congress, Berlin, Germany, 12-17 July 2020.  PDF  BIB
ADAMS Lab is looking for exceptional graduate and undergraduate students who have the motivation to excel in the above areas of scholarly research. A successful student in these areas must have a solid background in mathematics, engineering, and computer programming. Good communication skills and previous research experience are a plus. For further information, click here, or contact Dr. Chowdhury: soumacho@buffalo.dot.edu .